Here are some tips to help you make the most out of Lalilo when the summer break is just around the corner.
Rewarding your students
As your students keep practicing their reading skills, they travel through worlds and earn an Explorer Certificate every time they reach a new world.
These certificates can be downloaded or printed so you can share them with your students—find out more here. We also have a special explorer certificate for the end of the year, which you can download here.
You can also reward your students according to how they behave in class and with their friends, thanks to these Lalilo diplomas.

Your students' progress and usage
If you work with Common Core State Standards, you can check out each student's progression from their individual page:

If you are an administrator, you can also check out the Admin usage report: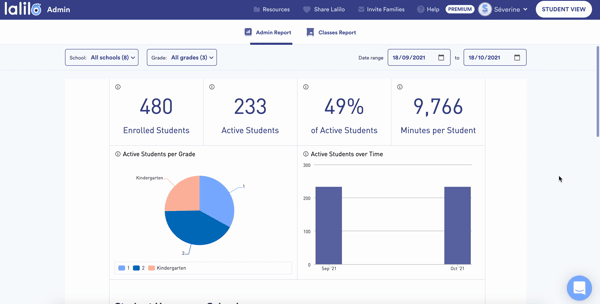 Summer practice
As long as your class is not deleted (and is still active), your students can keep practicing from home, with the profile they have been using in class.
They will need a home code, that you will find by clicking on Invite Families in the top menu on your teacher account.
Find out more about all the student login options here.
Your former and future classes
Are you wondering what you should do with your classes and students, now that the school year is coming to an end? This section is for you!
My Lalilo classes were manually created
You can either archive or delete your classes:
If you delete them, your students' profiles and data will be lost;
If you archive them, they will disappear from your dashboard and from the school login page, but your students will still be able to access Lalilo with their individual codes, and you can later restore the class (in case you need to transfer a student to their new teacher, for example).
To find out how to delete or archive a class, check out this article.
If your students need to be transferred to another teacher, you can refer to the article Transferring students.
If your entire class needs to be transferred to another teacher, you can visit our support page and submit a Support ticket—we will be able to transfer it in one click!
And what about grade levels?
If you wish to keep the same class for another year, you will not need to change the grade level.
The grade between brackets corresponded to the grade you selected when you created the class, and it determined the starting point of the placement test. However, your students can access Kindergarten, 1st Grade and 2nd Grade lessons regardless of the grade you chose for the class—Lalilo adapts to your students' individual needs.
For clarity, you can rename the class name (in bold letters) because this is what your students will see, but they will automatically go from one grade to another as they validate the lessons of our Scope and Sequence.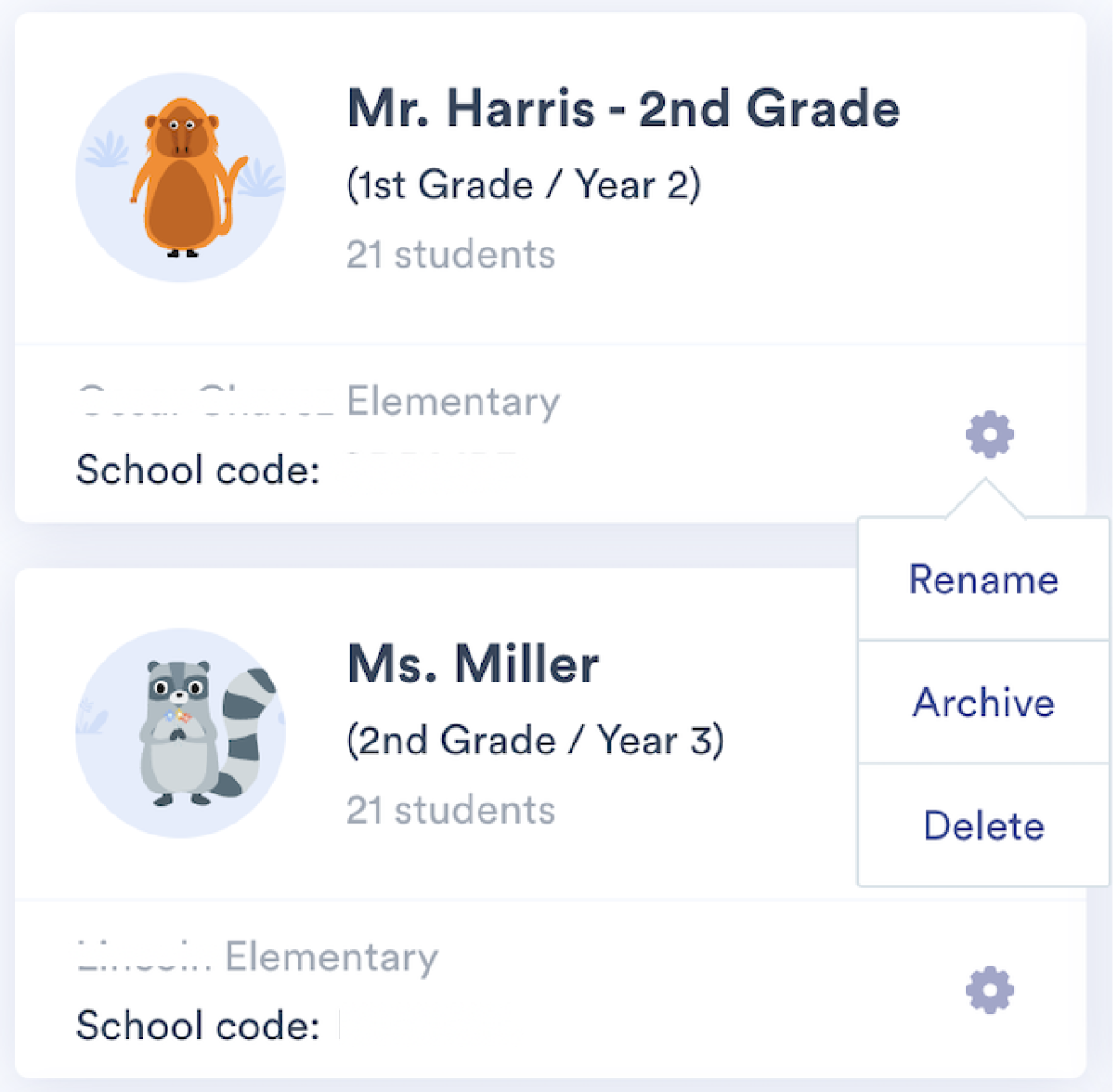 My Lalilo classes were rostered via the Renaissance Growth Platform
Your classes and students are added and edited automatically, so please contact your administrator if you need them to be updated.
My Lalilo classes were rostered via Clever
If you need to update your classes, please refer to this article
If you need further information, feel free to submit a Support ticket.