If you have a Renaissance Growth Platform (RGP) site, you can now roster your Lalilo classes there. Once your administrator has set up your school year and assigned Lalilo to your class, your classes will appear in Lalilo by the following day.
For more information on rostering in RGP, please visit our support page and submit a Support ticket, or call 1-800-338-4204.
If your colleagues already use Lalilo, you can ask them for the school code. When you enter it in the School name and address, or school code field, you will see your school appear.
If you are not rostered via Renaissance, you can enter the following information: city and state of the school, school name and address or school code; then a list of schools' names will appear so you can select the name of your school.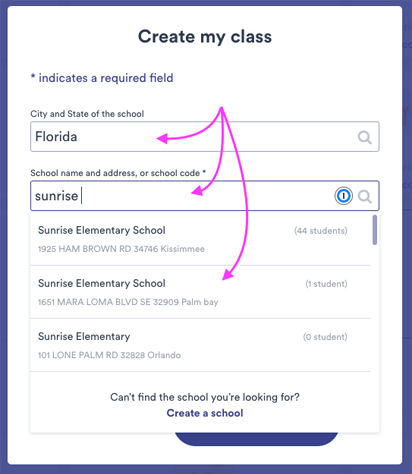 If you can't find your school, select Can't find the school you're looking for? Create a school in order to create the school you need.
Duplicate schools are often created by mistake. When you can't find your school, double-check by looking for it with its name, its zip code and the town name.
If you need further assistance, feel free to submit a Support ticket with the name and address of your school. We will help you find it!