Have your students been faced with exercises or lessons that have become too difficult? This can happen for several reasons.
The placement test is too difficult
Don't worry, both the right and the wrong answers will help position the students in the progression. Just encourage students to try their best, and we'll find the right place for them to start!
Students that are rostered with the Renaissance Platform (RGP) will be placed at the correct placement test starting point based on their grade (their grade levels will also be available in admin reports). While this will potentially start out at a level that is too high, students will answer questions and the test will adapt to the their ability. Teachers can also assign lessons to get students exposure to earlier skills in the scope and sequence.
This will also impact the grade level reporting in the usage report.
They have asked for more difficult questions
Students are sometimes asked to assess the difficulty of the exercises, and whether they would like more challenging questions or not. However, we do not increase/decrease the difficulty of the following questions, even if they have asked for more or less challenging exercises.
Have they received help from their parents during the placement test or to validate some lessons?
If they have, then the artificial intelligence on which Lalilo rests may have been misled into thinking that the students needed more challenging material.
You can assign a new test to students with the Assignments feature.
Students will take the new test when they log back in, but it will look like regular exercises on their end. On the Dashboard, their validated (green) lessons will remain validated, but their striped tiles will update to reflect the results of the new test. After the test, students will have a new starting point in the Scope & Sequence.
To assign a new placement test:
Select Assignments, then select Add an assignment.
Select the student(s) who need to take the test again.
Select New Placement Test.
Select Assign.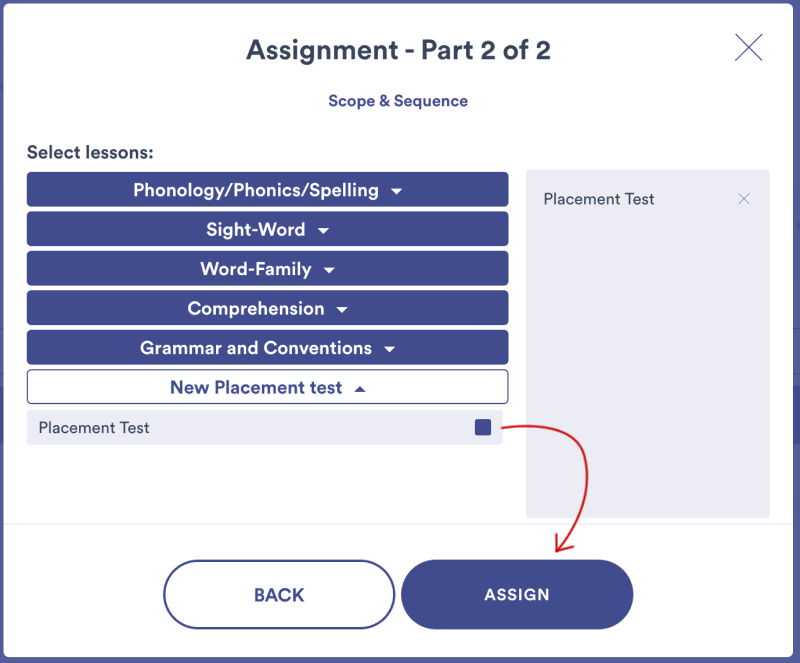 To learn more about assigning lessons or canceling an assignment, please read Assigning lessons.
If you need further information, feel free to submit a Support ticket.